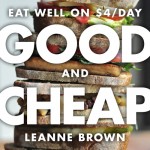 Leanne Brown, a food studies scholar, encountered a problem. She noticed that people on government food assistance (food stamps) were not eating healthfully. She calculated the average food allowance at $4 a day, and set about a challenge. Create great-tasting, healthful recipes within that $4 budget.
From her website: "I think everyone should eat great food every day. Eating well means learning to cook. It means banishing the mindset that preparing daily meals is a huge chore or takes tremendous skill."
The result of her efforts is a free downloadable cookbook called Good and Cheap. In it are delectable recipes, pictured beautifully, and with simple, inexpensive ingredients.  In the book, she includes sumptuous twists on old favorites, like her eight ways to spice up oatmeal.  However, she also gets a little … gourmet!  With a few simple instructions, she turns an ordinary grapefruit into a the type of sensuous delight you would expect to eat at a spa.  She rounds out the book with simple soups, exotic salads, and a section on roasting everything from whole chickens to winter vegetables.
Her cookbook includes a diversity of palates, including dishes that hail from Mexico and India (home made roti, anyone?)  And, she's not one to believe that people on government assistance can't have dessert.  She includes recipes for chocolate chip cookies, peach coffee cake, and even home made sorbet.
I encourage you to get on over and grab a copy now.  For more great recipes and her other wonderful cookbooks, see her main website:  http://www.leannebrown.ca/