I love the pixar film ratatouille, but I had never tried the dish itself. Recently, someone posted their ratatouille on social media and I realized that it was basically made of my favorite vegetables, so I thought I'd give my own a try. I love the ingredients so much that I didn't even have to go for a shop – they were already in my fridge.
All of these vegetables are on the low-fodmap list, showing solid green on the Monash app. Note the red bell pepper rather than yellow or green, and the garlic-infused olive oil rather than garlic itself. These substitutions keep the mouth-watering flavors without introducing gut-wrenching results.
The Ingredients:
Zucchini
Yellow Squash
Baby Red Bell Pepper (capsicum)
Heirloom Cherry Tomatoes
Garlic-infused Olive Oil
Lemon-infused Olive Oil
Himalayan Sea Salt
Black Pepper
I don't have amounts listed because I used enough to fit my pan, but one or two each of the large vegetables, about three baby red bell peppers, and one container of cherry tomatoes should do.
For me, it wasn't enough to make my dish taste good, I wanted it to be pretty. Ratatouille contains so many lovely colors that I couldn't resist making mine into a work of art.
First, I sliced the zucchini, red bell pepper, and yellow squash. The zucchini and bell pepper were sliced width-wise. For the yellow squash, I cut off the bottom to create a flat surface, and then sliced across, making oblong shapes. I used a round ceramic oven dish, and turned the zucchini, yellow squash, and bell pepper on their sides, layering them in that order around the edge. I then used zucchini to create an inner wall for the layers.  Remaining slices went on the bottom of the pan as a liner. The cherry tomatoes filled the space in the middle. The prepped pan looked pretty and delicious: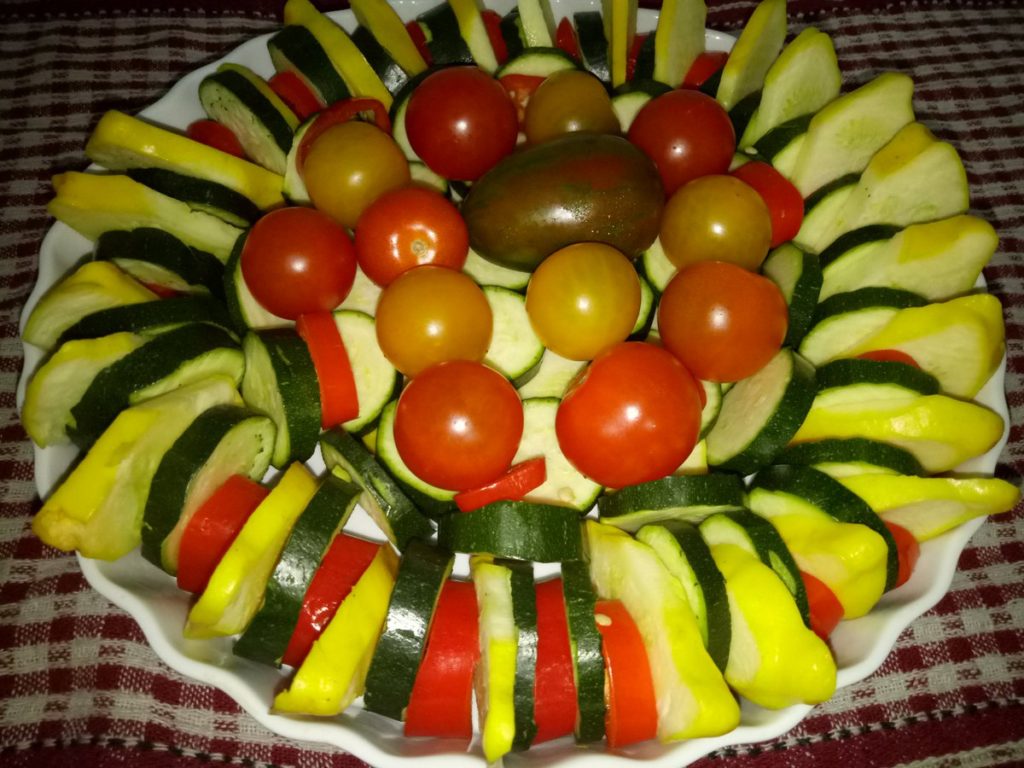 Notice how the yellow squash is angled so it makes little 'points' around the pan? Just lovely!  Now to just drizzle with the garlic oil and the lemon oil. Then, sprinkle with salt and pepper.
The whole thing goes into the oven at around 375F/190C for about 20 minutes.  The 'after' picture is a bit blurry, unfortunately, but you can still see how the tomatoes were beautifully blistered and the tips of the yellow squash were lightly charred, creating a smoky roasted flavor. It tastes just as beautiful as it looks.
Bon appetite!